Bjorn Olson 23A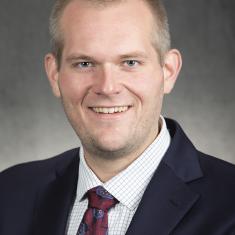 Bjorn
Olson
Assistant Republican Leader
District 23A
About Bjorn Olson
Representative Bjorn Olson represents all or portions of Jackson, Martin, Faribault and Watonwan counties in southern Minnesota.
Bjorn is the former Mayor of Elmore. He is a farmer and a history teacher at Blue Earth Middle Schools. Bjorn is also a Captain in the U.S. Army Reserve where he serves as Commander of the 150 soldiers that make up the 353rd Transportation Company based out of Buffalo, MN.
He and his wife, Hannah live in Elmore. They have two children.
Issues
Transportation Finance and Policy
Rules and Legislative Administration
Local Government Division