Roz Peterson 56B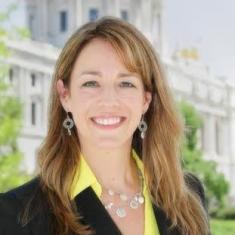 Roz
Peterson
Assistant Majority Leader
District 56B
About Roz Peterson
Representative Roz Peterson is in her second term in the Minnesota House. She represents Burnsville and Lakeville. 
Roz is the former chair of the ISD194 School Board, first elected in 2006 and re-elected in 2010. She's also a small businesswoman, and is the owner and operator of Lakeville Snyder Drug, Inc. She was named 2009 Business Person of the Year by the Lakeville Chamber of Commerce, and named the 2014 Dakota County Exceptional Business Woman Honoree. Roz is also involved in a number of other school and community organizations, including Girl Scouts, the Lakeville Chamber, the Dakota County Regional Chamber, and the Minnesota State High School League. 
Roz lives in Lakeville with her husband Tim. They have two children. 
Issues
Vice-Chair: Subcommittee on Childcare Access and Affordability
Education Finance
Government Operations and Elections Policy
Health and Human Services Reform
Select Committee on Technology and Responsive Government