Kelly Fenton 53B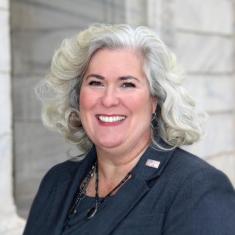 Kelly
Fenton
Assistant Majority Leader
District 53B
About Kelly Fenton
Representative Kelly Fenton is in her second term in the Minnesota House. She represents the eastern portion of Woodbury. 
Kelly a former teacher with extensive experience in education administration. She is active in her community serving previously on the Board of the Woodbury Athletic Association and is a member of the Philanthropic Education Organization, an organization dedicated to providing scholarships for women's education. Most recently, Kelly was the Deputy Chair of the Republican Party of Minnesota, and managed the successful campaign of former State Senator Ted Lillie in 2010. 
Kelly lives in Woodbury with her husband Greg of 22 years. They have three children. 
Issues
Vice-Chair: Commerce and Regulatory Reform
Government Operations and Elections Policy
Rules and Legislative Administration
State Government Finance